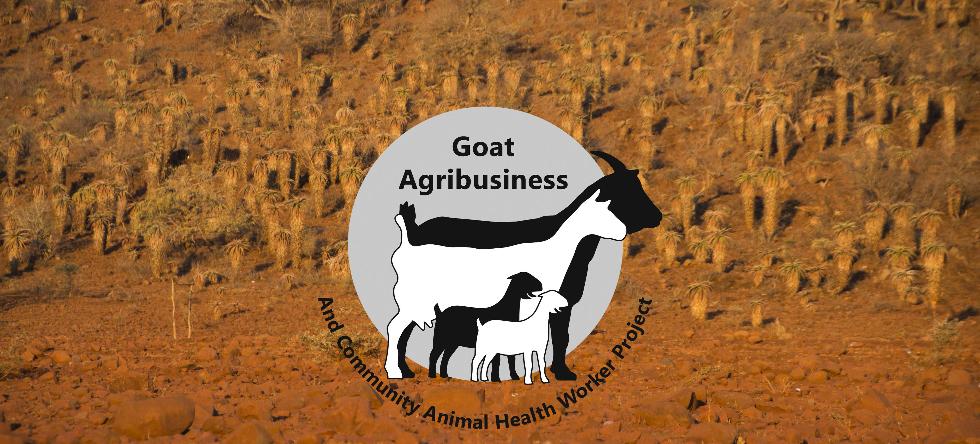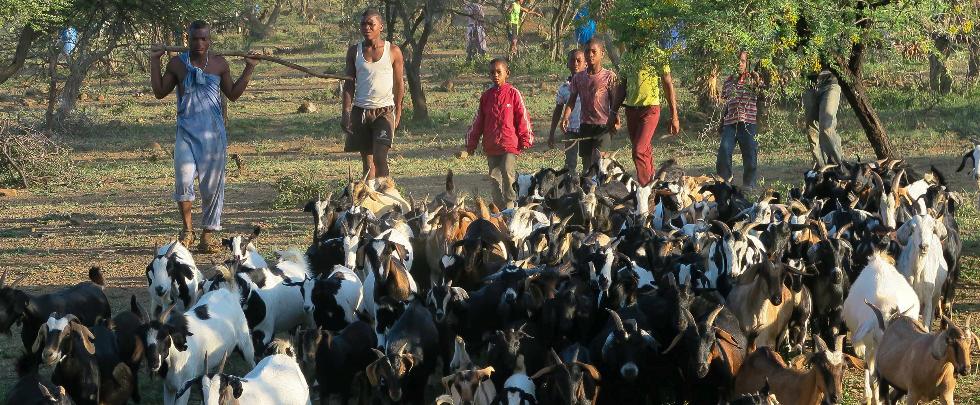 The partners in the GAP program

Goat Agribusiness Project Aim
The KZN Goat Agribusiness Project (GAP) seeks to improve home food security and rural livelihoods and lead to helping to lift farmers out of poverty. This will be done through a process of improving goat productivity and increasing commercialisation of homestead herds in these areas focusing primarily on youth and women.

The seven objectives of GAP
Create small businesses among local youth to support farmers through a Community Animal Health Worker (CAHW) program

Commercialise local goat herds

Improve production in local homestead herds

Create and strengthen value chains around goats

Support and target academic research on issues experienced by farmers

Support basic animal health of chickens and cattle in rural areas

Build state capacity to take these successes forward
Why Goats?
Indigenous goats are drought resistant and under-utilised. There is a huge demand for goats in the province but farmers cannot meet this demand because of poor productivity. GAP is working to change this. The Goat Agribusiness Project is targeted in five District Municipalities- uThukela, Mzinyathi, King Cetshwayo, Zululand and uMkhanyakude.

Why women goat owners?
Over 55 percent of rural households are women headed

The are more likely to ask for help

Spend more money on food security

Prepared to invest in services and their animals

Able to own and make decisions about small livestock such as goats

Often left out of traditional livestock structure
Commercialisation
The GAP project supports commercialisation to motivate farmers to invest in their goat herds, the GAP project is promoting a system of bi-annual indigenous goat auctions across the project area to set goat prices. Additionally, monthly sales at pension points are organised so that farmers can sell more frequently and secure a regular cash income from their goats. Productivity is the biggest challenge farmers face with their goat herds. Goats are unproductive because kids die from hunger, stress and then health issues.

Community Animal Health Workers are:
Young motivated people living in rural communities , Trained in primary animal health, Generating income by supporting all rural farmers, especially women Are supported and mentored by HPSA and state departments, Working under the guidance of livestock associations.
CAHWs support rural farmers to improve productivity in their livestock herds
The biggest impediment to productivity in rural herds is nutrition for mothers and the young. CAHWs collect, process and sell nutritious crop residues and make energy blocks.

Value chains and Research
Supporting the value chains involved in the goat industry is a priority for the project. Value chains that are supported include leather, Agrivet shops, sales and auctions and supplementary feeding systems. A research support program collaborating between academics the state researchers and farmers works through an innovation platform and in field research and experimentation to answer farmers questions.

Training
Training is a key part of the GAP project. It is the only training on goats that is AgriSETA approved in the country. The training modules and systems are geared towards the various levels of literacy in rural communities and the skills necessary to improve production.
Training materials have been jointly developed with experts, vets and the state are available for peer organisations.

An overview of our project-'Making Every Kid Count'
Transforming the future with the KZN Goat Agribusiness Project
The secret to Radical Economic Transformation is … Goats! No kidding. A group of agricultural innovators in KwaZulu-Natal have seen the potential in goats to boost food security, stimulate small entrepreneurs and ultimately establish an export industry. Their first task, simply put, is to stop kids dying off through a community-based programme of vaccination and nutrition, and in that way boost production by up to 40%. The hundreds of thousands of goats that are now having to be imported from Namibia to meet demand, will be able to be sourced locally, changing lives across the province and wherever goats are used for meat or ceremonies.
The vision: The KZN Goat Agribusiness Project aims, within five years, to stitch together a value chain that will double indigenous goat production, develop 7 000 women commercial farmers, create 620 youth jobs and 700 microbusinesses, and generate R100 million in extra value from the herds. The partners: The KZN Goat Agribusiness Project is a R70 million initiative that has already developed strong momentum in five districts in the province: Mzinyathi, Thukela, Uthungulu, Zululand and uMkhanyakude.
The partners in the project are Mdukatshani Rural Development Project, HPSA, the Department of Rural Development and Land Reform, the Department of Agriculture and already they are looking for ways of expanding its reach.
How does it work? The hubs for the project are individual homesteads where women are in charge of the goat herds, and also more than 100 dips in an area spanning from the Drakensberg berg to Mozambique border. Each dip has a reach of about 300 farmers who are or will be part of the project, and so 30 000 farmers will be brought into the project directly or indirectly.
Servicing the needs of these women farmers are 300 youth who have been trained as Community Animal Health Workers; some administering animal health, some organising winter feed and manufacturing protein/energy blocks, some processing hides for leather products. Altogether this will result in 700 microbusinesses across the countryside. To date, there are already 5 000 project members, and growing.